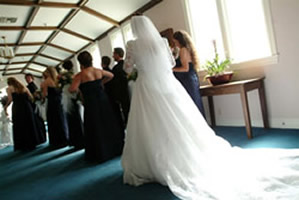 About Us
Mneme (say "knee me") Productions was formed to provide high quality and high definition wedding and event videography services to Southern California with a focus on the human side of your event. Our "home base" in Central Orange County allows us to have the whole region within easy reach. If you are in any of the Southland counties, we can shoot your wedding. Even if you aren't in the area, contact us, and we'll try to be there for you too.
The Process
We believe that every couple deserves a videographer that treats them with respect before, during and after the wedding.It's important to us that we fulfill every expectation you have. Before your event, we will consult with you as much or as little as you want. This is your wedding day, and we want you to be in control of what happens.
During the event, we believe in the importance of being as unobtrusive as possible. You and your guests come first, and while "getting the shot" is important, we promise to do so with all the dignity and respect due this occasion.
After the footage is shot, the editing process begins. Taking raw footage and turning it into the story of your wedding is an art and we will spend many hours getting yours told the way it happened. Once that is done, your DVDs will be delivered to you with their custom labels and cases to serve as a memento for generations.
Mneme?
To the ancient Greeks, Mneme was the personification of memory. They believed that as a muse she was responsible for inspiring the memories of the storytellers and historians of the age. We would like our work on your wedding to do the same for you
You put so much thought and time into planning your wedding, then in a thrilling, but all too brief time it will be done. Some of your memories will never fade, but the day can be such a blur you'll wonder where it went. Let Mneme Productions help you document your event, and to be your muse when the time comes to remember your day.
For more information, contact us by calling, sending an email, or filling out a contact form.